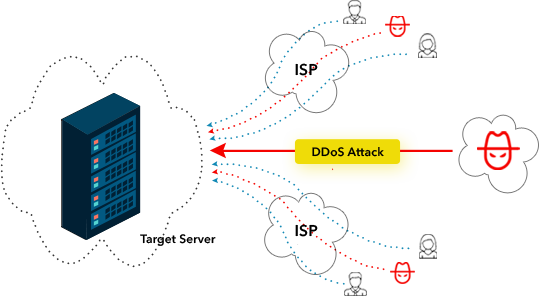 Why is DDoS Protection, WAF, and VPN a buzz right now?
Website and Server attacks are one of the most common occurrences these days, with the ease of "purchasing" illegally distributed attacks aimed at a competitor or target it's gotten the industry to shift a major focus on protection. Almost every major website has some form of protection in front of it now, albeit a DDoS appliance, Web Application Firewall, or clients masking themselves behind a Virtual Private Network.
Websites such as TechCrunch have covered some of the pressing and disturbing news related to DDoS extortions here.
ServerDeals offers services that power these types of applications, enabling you to have peace of mind that your websites remain online. Our state of the art DDoS-Defense™ for both internal and external servers is available for very competitive prices compared to the rest of the market.
We have a team that specializes in scrubbing networks and ensuring clean data is transmitted successfully to and from your website.
Why choose DDoS-Defense™ ?
-Prevent service disruptions during attacks.
-Reduce revenue loss due to attacks causing service outages.
-Minimize latency caused by packet analysis and cloud filtering.
-Prevent massive bandwidth overage charges caused by volumetric DDoS attack traffic against your network.
-Pricing includes all IP addresses in an allocated block, unlike many competitors who charge per IP.
-Attack logs are stored in your client panel for full transparency.
Our enterprise DDoS Protection protects against ALL known DDoS attack types, including:
UDP Flood
TCP Flood
SYN Flood
ICMP Flood
DNS Reflection Flood
All Layers: 1 through 7
Are you or your customers under attack? We provide an extensive DDoS mitigation solution that can protect services located within our own datacenters, servers in other locations not operated by ServerDeals, and entire remote networks.

Malicious network traffic targeted against enterprises and network providers have cost organizations millions of dollars in downtime of mission critical services. Protect yourself against these attacks today by allowing our highly automated and efficient DDoS-Defense™ suite to mitigate these attacks for you. We utilize in-house protection methods alongside specific scrubbing appliances like RioRey gear to shield our clients against malicious layer 3, 4, and 7 DDoS attacks.

We protect against all 25 classes of DDoS attacks; see RioRey's Taxonomy of DDoS Attacks for more information about the various forms of malicious attacks.
Take a look at our DDoS-Defense™ packages here!